Pitch Perfect actress, Rebel Wilson, hosted this year's 2013 MTV Movie Awards. The Aussie-born comedian kept the audience entertained with her often explicit jokes, but her over-the-top performance as host was not the only notable thing about the show that aired last night. So let's get to it and address some of the best, worst, and most obscure moments from the show.
Best Dressed: Selena Gomez
Selena Gomez turned heads in this gorgeous beaded gold dress designed by Julien Macdonald and accentuated her legs in a pair of classy nude pumps.
Worst Dressed: Hana Mae Lee
Hana Mae Lee also turned heads, but for the wrong reasons. She arrived at the red carpet wearing this strange ensemble and appeared to be trying to one-up Lady Gaga for the most unique red carpet outfit. She certainly raised eyebrows with her bizarre cigarette hat and it unfortunately became the main focus of her outfit, rather than the body-fitting, black, cut-out dress she was wearing.
Best Acceptance Speech: Emma Watson
Emma Watson followed in Emma Stone's footsteps when she accepted the second Trailblazer Award ever to be given out. After a montage of fake confessional interviews from her co-stars, she gratefully accepted her award and was just as sweet and lovable as ever. She proudly admitted to always being the "eager beaver in school" and finished off her speech with words of encouragement saying-
'I was the girl in the front of the class who was the first person to put her hand up and it's often not cool to be the person that puts themselves out there and I have often gotten teased mercilessly, but I found that ultimately if you truly pour your heart into what you believe in, even if it makes you vulnerable, amazing things can and will happen.'
Most Awkward Stage Crash: Aubrey Plaza
The Parks and Recreation star confused the audience when she ran on stage and tried to wrestle Will Ferrell's golden popcorn award during his acceptance speech. Perhaps it was her attempt at a promotional opportunity for her upcoming movie, The To-Do List, because it was written across her chest in black sharpie. However, regardless of her motives, it was a confusing moment at the MTV Movie Awards and the speculations that it was scripted were quickly put to rest after the security guards escorted Plaza out of the award show shortly after.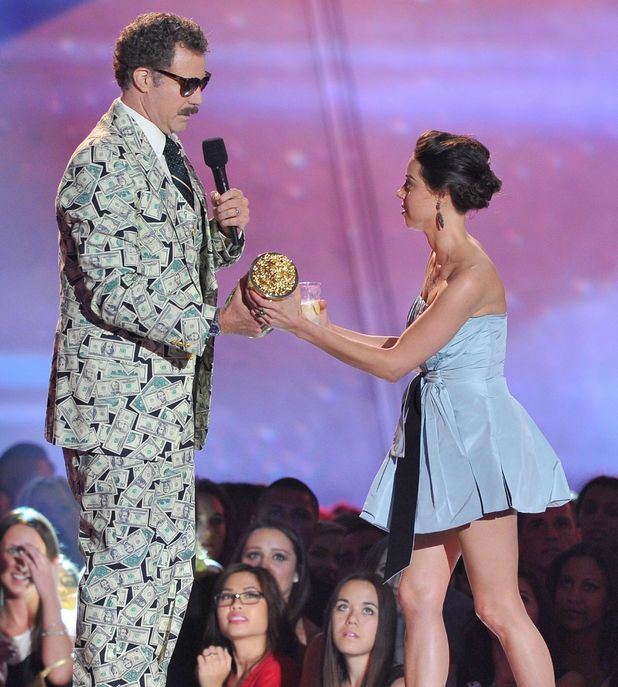 Biggest Disappointment: Bradley Cooper and Jennifer Lawrence's acceptance speech for Best Kiss
The actual disappointment did not come from the acceptance speech itself, but more from the fact that Jennifer Lawrence was obviously absent from the award show, therefore unable to reenact the kiss which is traditional and expected for the winners of this category. In actuality, it probably would not have happened regardless but we can only hope. Everyone missed Jennifer Lawrence and noticed her absence, including Bradley Cooper who mused, "She was great to kiss."
Most (Pleasantly) Shocking Performance: Selena Gomez 
Selena Gomez makes our list yet again with the performance of her new single "Come and Get It." Her performance shocked viewers, in a good way, due to her performance that seems to be her attempt at shedding her conservative Disney image. She put on an entertaining show and proved that she is a full force triple threat that can take on acting, dancing and singing. With the release of her movie Spring Breakers and the debut of a new and catchy single, Selena Gomez is proving to be a notable star on the rise.
Best Friends: Ke$ha and Snoop Lion
This duo appeared to be new besties when they took the stage to introduce a musical guest. During their presentation, they appeared to be passing back and forth a suspicious looking cigarette. They left it up in the air as to what exactly they were smoking, but whatever they were sharing, it seemed to ignite a new and budding friendship between the unlikely pair.
Most Memorable Moment: Rebel Wilson and every joke she made
Rebel Wilson proved to be a worthy and memorable host and kept the audience thoroughly entertained for the entirety of the show with her series of racy jokes. Whether you laughed or simply shook your head at her jokes, there is no denying that Rebel stole the show with her strong stage presence. Introducing herself as "Just a fat and simple girl from Australia," she kept the audience on their toes with comments about her koala named "Chlamydia" and dressing up as a super hero named the "Iron Mangina."
Like always, the annual MTV Movie Awards did not fail to put on an entertaining show and proved to be an eventful night worth remembering.